Charles Jencks
Born in America, for the past four decades Charles has lived and worked in Britain – where his designs are found in both buildings and sculptural landscapes where he is famous for his use of cosmic landscapes that bring in the surrounding views.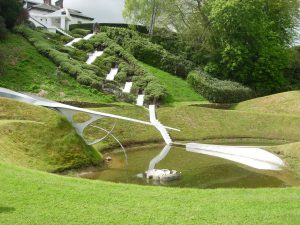 Charles is also renowned for his books which question modern architecture and identify its successors, he became famous for his bubble diagram of architecture and for his explanation of what Postmodernism really means within the field of architecture.
Later in his career he became well known for co-founding the Maggie's Centres – a series of practical and beautifully-designed buildings dedicated to empowering people to live with, through and beyond cancer by bringing together professional help, communities of support and building design to create exceptional centres for cancer care.
A Statement from Charles Jencks
To see the world in a Grain of Sand, the poetic insight of William Blake, is to find relationships between the big and small, science and spirituality, the universe and the landscape. This cosmic setting provides the narrative for my content-driven work, the writing and design. I explore metaphors that underlie both growing nature and the laws of nature, parallels that root us personally in the cosmos as firmly as a plant, even while our mind escapes this home.